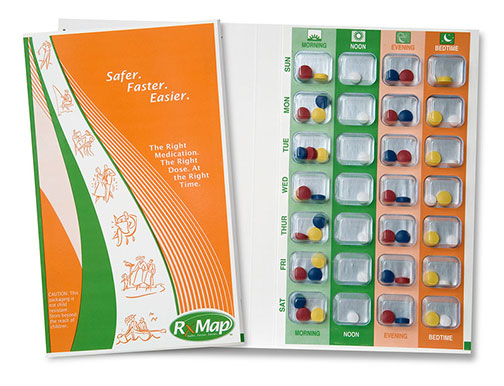 We are proud to offer medication packaging solutions to our patients and caregivers. Consider us your "medication organizers"
Pill Box Program- Although we offer a better solution than the old fashioned pill box- some of our customers don't want to break away from this method. Remember this is your pharmacy- of course we will do what our customers want.
Classic Blister Packaging commonly referred to as "bingo cards" are commonly required in personal care/assisted living facilities. Remember when you have a loved one in a facility, you always have the option of using your own pharmacy. Count on us to take care of your loved one, not an out of town pharmacy!
Pre Filled Insulin Syringes – Diabetic patients often have vision problems making administering insulin a challenging task. We will gladly pre-fill insulin syringes to ensure you get the right dose of medication every time.
Oral Liquid Syringes – Some medications are given in as an oral solution. A common example is Morphine solution. Whether you would feel more comfortable with us drawing up the syringe or your loved one is in a facility that requires pre filled syringes, we have you covered.